The name "ruby" is reserved for the beautiful red gems, from orange to purple red. The most sought-after are distinguished for their warm and bright red colour due to the presence of chromium.
Ruby is cut into brilliant cut, pear-shaped, square or cabochon. Sometimes a cabochon can present rutile needle-like inclusions, causing a phenomenon called a constellation. Because it is one of the hardest materials on earth, it holds the ninth position in the Mohs scale, just behind the diamond, it has been used for centuries in the production of valuable jewelry.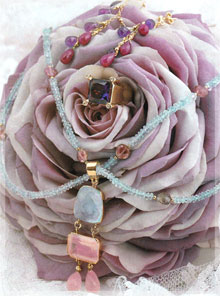 It decorates in a unique way rings with gold K18, vintage style necklaces, bohemian earrings with diamonds, crosses tricolour with sapphires and emeralds, pins with large stones from the '80s and rosette pendants with diamonds.
The name means "blue" in ancient Greek and is due to the presence of iron and titanium. The most prized sapphires are those with an intense blue colour and velvety appearance. Today, when talking about a sapphire we only refer to blue corundum from very dark to light blue .
For all other varieties we use the name followed by the colour such as pink sapphire. So, depending on the chemical elements that exist within the stone, sapphire gets pink, purple, green, gray, brown and yellow shades. The stones named «fancy» do not have the value of the blue, but they are very much liked.
A very impressive type of inclusion, known as starfish, is the one created by rutile needles inside the sapphire and produces bright flashes in the form of 6-ray star. This constellation is visible when the stone is cut cabochon style.
We have great earrings chandelier-like, riviera bracelets with sapphires and brilliant cut diamonds, multi-coloured rings, minimal men's cufflinks and stylish neck motifs for a striking appearance.
It is one of the most sought after gems because of its exquisite colour (it is bright green, with excellent luster and transparency) and in its high hardness (8 on the Mohs scale).
In the past the emerald was commonly used rough , but later, due to its sensitivity to being banged, a special type of cut was developed for this stone, a tiered cut, called "emerald cut». Thus any acute angle is eliminated and almost the entire original stone is kept.
Combines very nicely with yellow gold K18 and brilliant cut diamonds. Beautiful stones with bright green colour adorn necklaces and bracelets – cuff-like inspired by the archaic, classical and Byzantine period. In addition, it is one of the most sought after stones for men's jewelry such as cufflinks and tie holders.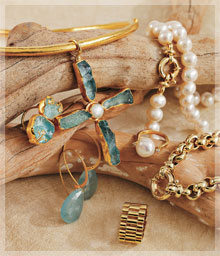 The name means "sea water". It is a valuable stone with light bluish green colour, although it may be found in sky blue. Thanks to its unsurpassed beauty it is widely used in jewelry, however, it needs to be treated with care as it is fragile.
It is one of the few stones used in jewelry, either to be tied to a trendy piece or nailed to an antique style piece of jewelry in an equally impressive way. In rough aquamarine we find baptism crosses, chevalier K18 gold rings, fancy earrings laced with rose quartz and colourful bracelets with rock crystal and mother of pearl.
Topaz ranges from light blue and colourless to yellow, orange, brown and pink. Those found on the market are usually yellow, blue or brown, thermally treated with gamma rays. Its hardness makes it suitable for use in jewelry but due to its perfect slot it must be protected from sharp blows.
Topaz is found in vintage rings tied with gold K18, in rosette earrings with brilliant cut diamonds or synthetic stones (zircon), in pendants with pearls and diamonds as well as in minimal jewelry, which follow the latest fashion trends.
It is a beautiful mineral with a wide variety of colours from colourless pink, blue to green, yellow, brown, black or with multi coloured stripes.
The colourful stones are fragile on the verge of colour change and need to be treated with care.
The many different colours of tourmaline are able by themselves to decorate a multi coloured ring or a cocktail cross. The colourful stones are laced with yellow or white gold K18 in trendy jewelry from the '80s onward to eccentric earrings and bracelets that exude the dynamism of the 21st century.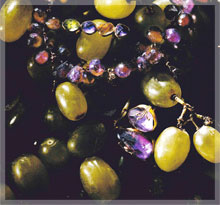 It is a variety of quartz from dark purple colour to a pale lilac. It has been used for decades in silversmithing to decorate religious ornaments or in gold jewelry in order to be laced in fine handcrafted pieces of art.
The colourful purple amethysts are often laced with rose quartz, aquamarine and rock crystal beautiful baptism crosses and colourful rings. Trendy long pendants and long necklaces tied alternately with pearls and coloured tourmalines are absolute musts for every taste. And of course, what is more beautiful than a set of men's cufflinks with cabochon cut amethysts or a rosary with amethyst and silver.
Corals are the beauty of the sea, the skeleton of tiny sea animals called polyps of coral and which live in colonies in the form of saplings.
For centuries, the red variety is being utilized in jewelry. It is used in its natural state or processed in cabochon, beads or in sculpture. Of course, its colours vary from red, pink, white, to blue and black. Coral should be protected from abrasion, heat, sweat, perfume and cosmetics that alter its colour and make it look old.
Usually, we find coral in folklore, in oriental and antique style jewelry laced with yellow gold K18. However, in the last decade we have a new minimal, stylish, trendy style. Thus, we have beautiful crosses, impressive large irregular patterns,dangly earrings and cameo rings. Of particular beauty is the combination of coral with pearls, turquoise and lapis lazuli.